Latest News
Hello!
Have you ever wondered about what one needs to consider when it comes to video game music? Then let me tell you about our creational journey to the music of Aeon of Sands and check out this blog post.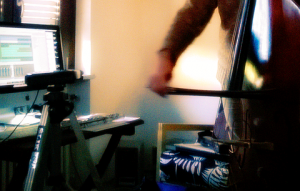 Considerations and First Ideas
Back then when we started, Florian and me both knew we wanted a rich audio environment for Aeon of Sands, with three constituent parts:
Game audio effects: GUI sounds as well as sounds triggered by players or their opponents

Ambient track: the loopable constant sounds that create the background for the game experience

Musical themes: the loopable melodic tunes that introduce the game, underscore encounters and take you out of the game and back to your room.
Besides, we both wanted all the audio in the game to be very specific, convincing, direct, and most of all, musical.
Given the particular narrative of the game, we also wanted its music to be not at all high fantasy or over-epic.
In fact, the scope of the game story is not a fantasy of macho super-heroics stumping over the lives of a galaxy, or some stuff like that; it's the story of a clerk, stumbling through things larger than him, and the story becomes broader only when he's forced to confront his humanity in face of his own survival.
Plus, add a little bit of humor.
Influences
On the other end, we had a few examples in mind, something that came from our roots, like games we loved of the Commodore Amiga era: Perihelion, Elvira Mistress of the Dark, some pieces of Mass Effect for its coherence, and something even from the Commodore SID era as an inspiration.
But we also wanted the bulk of it recorded live using analog tools and instruments, the same I (Marco) did for most of the audio effects.
Fruitful Collaboration
Enter Gabriele Artuso, our musician friend, who has collaborated with us on Aeon of Sands for the last three years.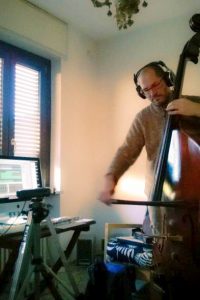 Gabriele added to the mix – besides his compositive experience – his taste for jazz improvisation and his exhilarating sense of experimentation.
He did most of the real work, to which I added post-production and editing, contributing only a couple of tunes, just because his enthusiasm for this creation work touched me.
The Result!: 40 Tracks and more
The result of this fruitful confrontation is a set of almost forty tracks: tuneful ambient loops and direct groovy main tracks that echo back to John Carpenter's 'Eighties.
All of these tracks you'll be able to listen to in the game!
Additionally, we are in the process of distilling the game's tracks into a soundtrack to be released further on the road.
Stay tuned on radio Aeon of Sands 🙂
And besides, if you have not yet done so, please add Aeon of Sands to your Steam wishlist!
marco from TwoBitsKid